Is your busy family constantly on the go? For many modern families, creating quality time is becoming more and more challenging with hectic schedules and lots of distractions.
It's no wonder that open concept floor plans are becoming more and more popular as families look for ways to turn everyday tasks into quality family time. At Castle Pointe Homes, we feature a variety of Woman-Centric custom home floor plans with an open concept that are ideal for busy families.
So what's the secret to creating an open concept kitchen that promotes a greater sense of family togetherness? Here are four open concept design tips for your own custom Des Moines new home:
The Modern Family Meal
Today, it's easy for busy families to grab a quick bite on the run or eat dinner in front of the tv. Open concept kitchens that separate the dining area from the tv area creates meal times that free from distractions and conversation friendly.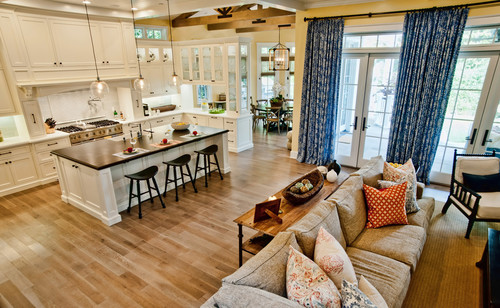 Define Spaces
Create definition between spaces with architectural features such as archways that visually define spaces for homework, eating, technology centers, and relaxing. This gives multiple family members the ability to work within the same space without feeling crowded and adds elegance to everyday spaces.

Multi-Tasking
Every busy multi-tasking mom knows that it's easy for little ones to make mayhem while mom is making dinner.  Design your open concept kitchen with cooking areas in the island that face out to the dining and family areas. This gives parents an unobstructed view of all the action and creates open conversation areas.
Think Outside the Box
Of course, open concept living is not just about what happens inside your home. Design an indoor outdoor space with French doors or a sliding wall of windows for a dramatic yet functional family space.
At Castle Pointe Homes, we specialize in helping families create open concept spaces that incorporate all of the features of Woman-Centric Design: entertaining, storage, de-stressing, and flexibility.
Visit our latest custom home in Urbandale and tour one of our open concept kitchens currently under construction. During your tour, we'll talk about how to design an open concept kitchen for your own family. Discover what sets the quality of a Castle Pointe Homes apart and why we're one of Des Moines' most trusted custom home builders.
Contact us today by email to schedule a tour, or call us at (515) 988-4201.